OPERA IN PANZANO IN CHIANTI
An Opera-Night in Panzano in Chianti
Are you planning to be in Tuscany next summer… or would you like to be!?
Join us and experience a world of wonderful music, fine art, superb cuisine and prestigious wines through an Insider's View of Tuscany. We have an exciting schedule of events and a fantastic concert at a breathtaking site: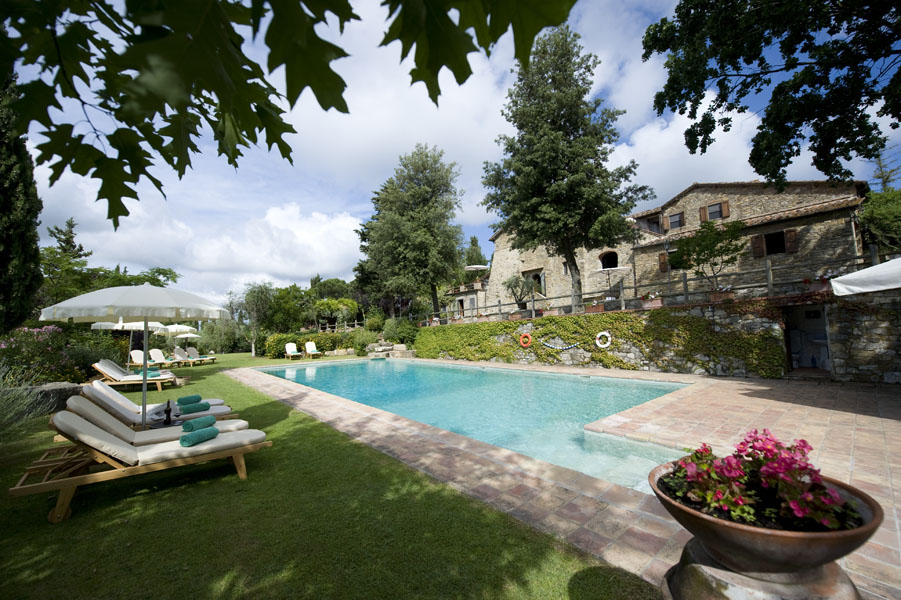 Villa in Panzano in Chianti
http://www.chianti-and-more.com/Country%20Apartments/Panzano%20in%20Chianti/vacation_rental_351_en.htm
A special 7 nights - 6 days trip with sightseeing and activities, delicious dishes paired with Tuscan wines and a private vocal concert in collaboration with the Daniel Ferro Vocal Program, New York and Greve in Chianti.
Many of the past participants of the Daniel Ferro Vocal Program are continuing to distinguish themselves on operatic and concert stages throughout the world including The Metropolitan Opera, The San Francisco Opera, The Paris Opera, Bayreuth, Covent Garden, Dresden Opera House.

Spend an evening with Dusica Bijelic from Convent Garden, Alexander Hajek from the Dresden Opera House or Robert Dean Smith from Bayreuth to name a few.

An evening at the Opera can be thrilling but to hear a live performance in an intimate setting followed by the opportunity to share time with the artist is especially rewarding.

The program includes your accommodation at a villa close to Panzano in Chianti, dinners at your villa and at selected restaurants, interesting excursions and day trips, transfers and transportation, wine experiences, meetings with wine producers, a formal piano concert with a vocal singer (name of both artists will be given closer to a formal reservation due to the business schedule of each performer), plus a buffet which will be arranged and catered by Dario Cecchini and his staff.
Please contact us for the detailed program
Price per person
Euro 2.867.- for a group of 12 people (+ 1 guide)
Euro 2.623.- for a group of 19 people (+1 guide)
Sightseeing in Florence
***

Cooking Experience in Panzano in Chianti
This holiday is designed for travelers who want to get the real Tuscan feeling, enhanced by local experts.
You stay in a private luxury Tuscan Villa where our welcoming and professional assistant is available during the entire week sharing with you all about Tuscan lifestyle, culture, traditions and of course … delicious food, precious extra virgin olive oil and excellent wines!
You learn how to cook authentic Italian dishes with a professional Chef, having fun and making new friends, all while staying in a spectacular villa in Panzano in Chianti, the heart of the Chianti area.
The intention of our experienced Chefs is to teach the culinary traditions of Tuscany. You will enter into the authentic gastronomic culture and discover how much can be learned about a country through its culinary traditions. During your Tuscan Cooking vacation you attend three hands-on cooking lessons in the afternoons enjoying your creations for dinner, always paired with delicious wines.
The Cooking lessons are held in a private luxury Villa in Panzano in Chianti which offers an outstanding kitchen inviting you to experience tasty Tuscan recipes, only seasonal vegetables and local, fresh ingredients.

The village of Panzano is located in the heart of the Chianti area (half way between the art cities of Florence and Siena) and is one of the most authentic and untouched places in this area, surrounded by organic and biodynamic vineyards. Wines from Panzano are often pronounced as the best of the region.

Villa:
http://www.chianti-and-more.com/Villas%20and%20Farm%20Houses/Panzano%20in%20Chianti%20/vacation_rental_427_en.htm

Guaranteed weeks for 2015 –
for different dates, please contact us

23 - 30 May 2015
13 - 20 June 2015

Please contact us for the detailed program.

Price per person in double room € 2400
Price per person for not cooking guests in double room
€ 2090

Included in the Price:
7 night accommodation, breakfast. Our assistant will be with the guests during the entire week. Three hands-on cooking lessons, cookbook including recipes of all the dishes prepared during the courses, an exclusive apron from a traditional Tuscan weaving factory, a certificate on completion of the course, five dinners, including superb Tuscan wines, four lunches (day 2, 3, 4 and 7). Two full day excursions by private minibus and guide (day 3 and day 6). Visit to a cheese farm, olive oil farm and a flagship winery including tastings (day 3, 4 and 6) House wine, soft drinks, tea and coffee are complementary.
***
Our clients receive an extensive list with suggestions for a memorable vacation in Tuscany:
detailed insider information about local restaurants, open air markets, designer outlets, wine classes and private tastings at your villa, cooking classes at your villa, catering and cooking services, guided tours, museums, wine tours / visits of wineries, golfing in Tuscany, spas, day trips, cell phones, rental cars, drivers / pick-up service / taxi service & more useful information.



Cooking classes at your villa

We are happy to arrange your cooking lessons with an English speaking chef who will teach you to prepare a delicious Tuscan lunch or dinner. Upon request the chef will organize your culinary day taking you to a market.

Catering and cooking services

A good selection of Tuscan menus (also vegetarian, light meals, fish) prepared at your holiday home by expert cooks or Tuscan housekeepers / owners.

Please let us know in advance in order to assure the required dates.

Restaurants

There are many good and a few superb restaurants locally. We are delighted to help you selecting the right place for your dinner and to book your table.

Drivers / Pick-up service / Taxi service

We arrange your pick-up service at the airport and licensed drivers for your day trips.

Cars, mini vans and buses up to 22 people are available

Door-to-door transfers to airports, restaurants, train stations etc.

The drivers also collect and deliver people into the towns or elsewhere.


Wine tours / visits of wineries
A must, but an appointment should be set up in advance.
We shall certainly call ahead for you.
Thanks to our collaboration with the "Association of Wine Producers of Panzano in Chianti" Chianti & More is able to provide a prestigious selection of wineries with English-speaking owners or staff.
Please note that not all wineries are open to the public.
Chianti & More represents the holiday homes at the local wineries. Please ask us for more information.
Guided tours

Licensed, expert and English-speaking guides for all art cities and Chianti towns

Please contact us in order to arrange your preferred itinerary or tour.

Museums

We highly recommend that you book tickets for all major museums in Florence in advance.

Bookings at +39 055 294 883
(Uffizi, Accademia, Palazzo Pitti, Bargello, San Marco, Archeological Museum)

Italian Language

Do you want to learn or improve your Italian language skills?
Beginners, intermediate or advanced learners
Single or small groups
Grammar or conversation

We can introduce you to expert, mother-tongue teachers.

Golfing in Tuscany

If you are interested in golfing during your vacation, please let us know. We shall email you a list with certified 18-hole courses, certified 9-hole courses, promotional courses, practice courses.

Spas
Tuscan spas are enjoying great success. If you are interested in visiting a spa during your holidays in Tuscany, let us know. We can provide a list of Tuscan spas complete with phone numbers, website and email addresses.

Chianti & More represents a few vacation homes close to spas. Please ask for more information.